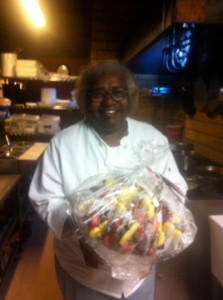 Shirley Mae's Café celebrated its 25th year in business on New Year's Eve 2013.     Congratulations, Shirley Mae!
What We Do…
Shirley Mae's Café cuts no corners.  Shirley Mae and Chef Theresa take an enormous amount of pride in the painstaking process of prepping and cooking fresh food every day they open their doors to their eager customers.  The marriage of Shirley Mae's Café's nostalgic atmosphere with its savory and historically-authentic dishes… straight out of the South… resonates with people who like its down-home-feel and its special one-of-a-kind cuisine… a cuisine that most folk don't have the time or know-how to prepare for themselves or their families at home.  Shirley Mae's mission is to enable her customers to take Shirley Mae's Café home with them in any quantity, as well as, dine-in.
Storied Location…
Shirley Mae's Café is housed in a 3-story clay-brick building that dates back to 1880… when it was the home of Andrew Willinger, manager of the W.M. & C.D. Campbell Tobacco Company in Louisville, KY.  Nestled in the heart of Smoketown, Shirley Mae's Café is located in the oldest African American community in Louisville… originally a post-Civil War encampment for freed slaves in 1868.  In 1910, an enterprising woman… Caroline King… converted Mr. Willinger's house into a grocery store… briefly listed as A.A. King Grocer (Andrew) in 1912… before reverting back to Caroline King Grocer through 1919.  In 1919, it became J.H. Fow Grocer (James).  And in 1926, Louisa Wagner acquired the building and added a one-story extension onto the three-story building on the Clay Street side… acquiring the 802 South Clay Street address.  In 1931, two women, Elizabeth Marmor and Anna J. Keniff, converted the building into a dry goods store.  It remained Marmor & Keniff Dry Goods until 1946.  In 1946, Joseph E. and Helen D. Krenitz converted the building into the J & H Food Bar on the Clay Street side and the J & H Apartments on the Lampton Street side.
The J & H Food Bar became one of the premier bars for minorities in Louisville… attracting celebrities and sports figures like Redd Foxx, Della Reese, Quincy Jones, Cassius Clay and Joe Louis.  The building remained the J & H Food Bar and J & H Apartments until it was purchased by Shirley Beard in 1988.  Shirley Beard became the first black owner of the building… and changed the name to Shirley Mae's Cafe.  Shirley Mae's Café opened on New Year's Eve 1988.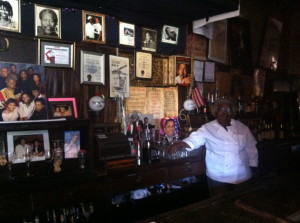 25 Years & Counting…
From Caroline King (the woman who started the first business at this location in 1910) to Shirley Mae Beard (entering the 26th year of business at this location in 2014)… if the walls in Shirley Mae's Café could talk, they'd have a rich history and a wonderful story to tell.  Now, countless photos of celebrities line the walls behind a time-worn bar.  But when you step through the door and hear the sounds of blues in the air or smell chicken frying and fresh-cut onions summoning your appetite or see Shirley Mae kneading a fistful of her famous hot water cornbread to lay in her cast-iron skillet to fry… then you know you're in the right place, sugar!  You're at Shirley Mae's Café!  Come on in!  We've been waiting on you!